Professional Development And Training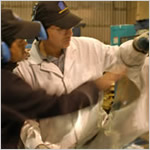 We strive constantly to improve the skills of our employees in all our operations in order to enhance our commercial, productive and logistics capabilities.

In this regard, we focus mainly on:
Professional development, in which we seek to attract the most qualified professionals to fill positions that require an innovative approach.
Training consisting of different kinds of programs for all workers, from new operator equipment training to language training, process control, management training, risk prevention and other skills required for ISO 9000 and other standards.
Skills update, improvement programs to enhance the abilities acquired in training courses and other contexts.
Skill development, in which the procedures of the most capable operators are identified, systematized and disseminated among all operators with similar functions.